Our Generation Voluntary Organisation (OGVO) prides itself on being a highly regarded volunteering organisation that constructs partnerships with the communities we work in.
Our mission is to foster a whole range of cross-cultural understanding and amity by providing young people with quality opportunities for international volunteering, interns, inter-cultural exchange and travel experience, education and training.
WHY STUDENTS & GRADUATES ALL OVER THE WORLD PREFER OGVO'S VOLUNTEER PROGRAM
1. Experience – Organizing variety of volunteer placements and internships work-experience in Ghana since 2004. Our staffs are consistently praised and recognized by our volunteers for their friendliness, hard work, and professional services. Since the last few years, we have been specializing in volunteer abroad programs in Ghana. We often travel to our project sites, meet volunteers, thrash out with local people and organizations, amend and set up meaningful and rewarding volunteer programs across the length and breadth of Ghana.
2. Impact – Using your skills and abilities to help the people in need.
3. Learning Opportunities – Gaining experience and developing skills in the field.
4. Cultural Exposure – Getting the chance to work in a foreign environment that broadens your perspective and your abilities.
5. Safety – Working in a safe environment where your personal safety is always a top priority.
6. Versatility – You can choose between working in a medical environment, educational environment, and contributing to community development.
7. Flexibility of the Programs – Our programs are highly flexible. Volunteering with OGVO can be customized to fit the interests of every inimitable person, no matter what age, background, or level of education. In addition to volunteer programs delineated on our website, OGVO also offers placements in other areas at the special request of our volunteers. In our programs, volunteers usually work from 1- 12 weeks. However, extensions can be arranged with advanced notice.
8. Price and Value – Our program fees and rates are highly affordable in comparison with competing programs. In other words, unlike other international and local volunteer organizations, we offer placements that are highly affordable and designed for college students and others on a lower budget.
9. Pre-Trip Planning – Our team makes certain that you are geared up, casing everything from VISA advice to what to pack in your carry-on. We are all swollen with pride of OGVO alums, thus our advice isn't just a good assume, it's firsthand, insider statistics.
10. Volunteers Satisfaction – We have high ratings in terms of our volunteers' gladness with their abroad experiences.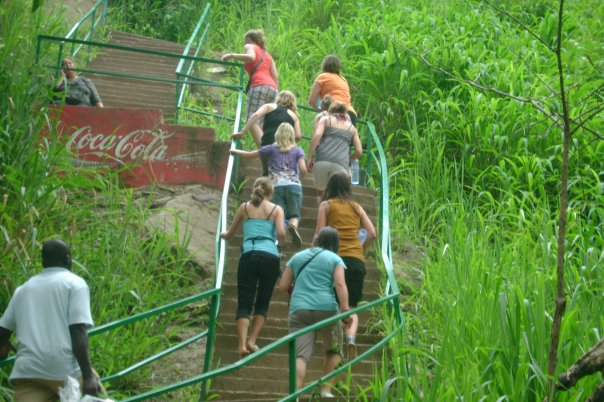 Great place for students! I learned a lot and was very impressed with all the doctors. Dr. Addison, Dr. Mawuse, and Dr. York were particularly excellent, and please thank them for letting us follow them around!
Being with a host family is a wonderful experience. Thank you to everyone for helping us.
FRANK & OGVO – FRANK IS AMAZING!! Frank took very good care of us, and made sure we were safe and happy. Frank made the experience of being in Ghana very good!
Frank is fantastic, and I really appreciate everything he did
Two wonderful weeks
July 03, 2016 at 10:25 AM
I spent two wonderful weeks in Kumasi, Ghana. The food, the host family, the work – everything was excellent! You really get to see Ghana from within which is such a fantastic experience. Still, the security always felt very high.
Program: OGVO High School Trip Program in Ghana