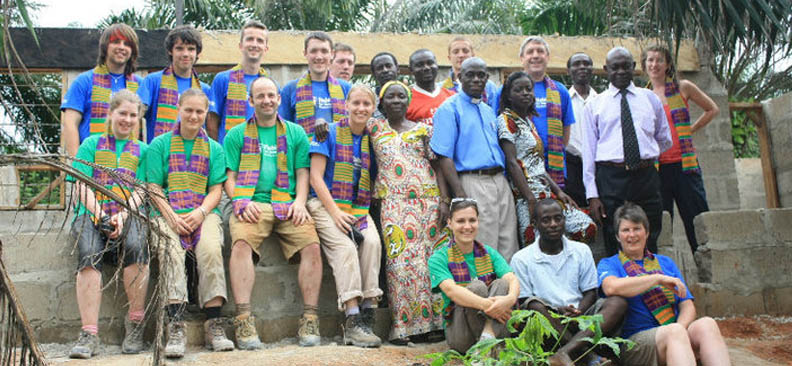 Summer Camp: Community Service And Travel Programs in Ghana
Program: Summer Camp – 21 Day Community Service and Travel
Start Dates: Any week of June, July, August, September and October every year
Arrival/Departure and End Point: Accra, Ghana
Language Requirements: Basic knowledge of English
This Program is Open to: Worldwide participants – High Schools, Colleges/Universities, Clubs, and Organisations etc.
Requirements: Minimum age is 15. No qualifications are required.
Typical Living Arrangements: Group living – Home stays during volunteering and Hotels during tours
Participants Travel to Ghana: Groups (8 – 40).
Accommodation: Volunteer house/Hotels
Food: 3 (three) times daily African dishes/continental meals.
Activities: 13 Day Volunteer Project and 8 Day Travel
Special Needs: Participants need to be in good health.
Fees: US $1,500 per head (please see below what fee covers)
Be a part of our Community Service and Travel Program in Ghana in every summer and experience an amazing three weeks. You will spend the first two weeks in rural communities in Ghana as a volunteer. Your remaining week will be spent touring around this magnificent country while pushing yourself with exciting adventures.
This opportunity is open to high school students who are aged 15 and up as well as college and university students. We also welcome groups and organizations to come with OGVO and volunteer in Ghana. Not only will you have the chance to be immersed in the local community in Ghana, you will also gain cultural knowledge through exchanges with locals and even be able to build your own world experience.
This is a great opportunity for participants to boost their CVs and resumes with volunteer experience. You will stand out from the crowd as you learn valuable life skills. Become a part of the global community and see the difference you make while developing rural communities in Ghana.
You will volunteer for around 13 days on a project that deals with community outreach and development, education, or with organizations that work with orphans.
Information about potential projects for your first and second weeks:
– Sustainable Community Development (Manual Work): This project is all about manual labour that will help increase rural infrastructure through the creation of classrooms, health centers, ventilated and improved toilets, market stall, housing, youth training facilities, and community centers. You may also work with planning tree and other agro-forestry initiatives including cocoa and coffee plantations, oil palm plantations, farmland clearing, seedling transplants, and crop harvesting.
– Orphanage Work: Help orphanage caretakers by creating fun and engaging physical activities, developing creative projects for the orphans including art, music, and dance, help staff members in providing support for the children, and instruct class on Math and English. You will also need to assist the staff members in daily chores including laying beds and tidying up. This is a great option for those who want to improve the lives and wellbeing of these children.
– Education: Teach classes in local schools on subjects including English and Math. You may also need to create engaging arts and crafts activities and to create education outreaches about social and environmental issues.
Travel Week 3:
Once you are finished with your two week volunteer experience, you will be able to go on adventures around Ghana. Immerse yourself in this new culture as you explore breathtaking natural sights, noteworthy historical sites, and create a whole new network of international friends. This is a great way to unwind after your volunteer experience. You will encounter fascinating wildlife and visit gorgeous landscapes. You will also have cultural tours through museums and local markets.
We are happy to take you to visit a whole host of museums including the Manhyia Palace Museum, the Prempeh II Museum, and the Okomfo Anokye Sword site. You will also be able to visit the Buabeng Fiema Monkey Sanctuary and the Mole National Park, among other fascinating natural sights.
Please inquire for a detailed potential itinerary.
Highlights
– Volunteer and travel program in Ghana
– Help build up rural infrastructure, make a difference in the lives of orphans, or teach classes in local schools
– Tour around and explore the magnificent country of Ghana and visit all the historical and natural sites
– Build up your resume or CV
– Make lifelong friends and be immersed in a new culture
What`s Included
Participation fees cover:
– Airport pick-up/greeting
– Transportation from Accra to project site – All transportation from the beginning to the end of the program
– Accommodation from the beginning to the end of the program. Volunteers live with a host family in a large house for the duration of volunteer work and a hotel for the duration of the tours
– Breakfast, lunch and dinner daily
– Bottled and filtered water
– In-country introduction/orientation
– Introduction to host family and program
– Placement and supervision in program
– Support/24 hour back up from OGVO
– Donation to project
– A letter of recommendation or certificate to participants after program
– Medical assistance
– OGVO Volunteers T-shirt
– An experience that will last a lifetime