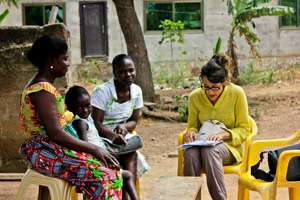 Microfinance for Economic Empowerment – High School Specials
For high school students with a passion for microfinance and an interest in finance, banking or lending, spending part of the summer in Ghana on our Microfinance for Economic Empowerment program is the perfect opportunity. You will gain practical experience while immersing yourself in the local culture and becoming part of the community.
If you have a passion for finance, banking or lending you should apply for this Microfinance for Economic Empowerment project. The local team has already supported over 200 Ghanaian people improve their lives. Providing disadvantaged communities a means of gaining financial independence and stability, this project aims to assist the most vulnerable groups in Ghana, giving them the kick start that they need in order to become self-sufficient and independent.
The micro-finance initiative offers two approaches to lending; micro-finance cash loans and micro leasing, where a rental fee is paid for an item such as a sewing machine. Loans are rarely given to the poorer people in society as they have no collateral meaning that they struggle to find ways to escape the poverty trap. Micro-finance is a proven way of not creating millionaires, but increasing the standard of living for those who need the most help. Join this micro-finance project to see how it works in the real world.  Learn about the challenges facing the borrowers and micro-finance institutions that are making this a viable lending option for many.
On a daily basis your main role is to work on new and existing loans which include helping with a wide variety of tasks, such as:
Worked alongside the field workers in completing their everyday tasks efficiently
Lead presentations on their product offerings to potential customers several times a week
Discussing and evaluating business plans
Conducting weekly workshops
Through this project you will be directly involved with the process of developing small businesses in a developing country and how micro-credit can help people with limited resources and opportunities become self-supporting and independent. You will spend time in a completely new environment, learning about a different culture and way of life while helping to fight poverty. It will be a rewarding as well as challenging experience.
During the weekend we'll take you to Cape Coast to visit Kakum Rainforest Reserve where you can hike through the jungle and experience the canopy walkway high in the trees. You will also have the opportunity to visit Cape Coast's slave fort and learn about the history of the region.
Safety & Supervision for High School Volunteers
Our staff that work on our High School Specials are well-prepped and experienced with caring for younger volunteers who are in need of a support system, a safe environment, and a structured regimen (with some flexibility for excursions). We created a comprehensive timetable for volunteers.
Our Professional Staff will take care of volunteer daily as volunteers work side-by-side to accomplish project goals. Volunteers visit historical sites and enjoy cultural activities during weekends and evenings.
Volunteers who join this program will not be left alone and will be kept safe. Volunteers go back to host families in groups of two or more volunteers with each family. Volunteers may even stay in a dorm that is managed by our staff for certain projects. Volunteers will room with fellow volunteers of the same sex and approximate age.
This engaging program will provide volunteers with an amazing opportunity while still receiving support. Volunteers can further explore their independence by joining some of our other programs in the evenings and weekends.
Accommodation: OGVO provides a decent, clean and safe accommodation for all our volunteers. Students will stay with our welcoming host family in housing consisting of comfortable rooms in a safe, conveniently located neighborhood, clean and fenced. Lodging arrangements consist of modern toilet facility and running water. Students will share a room together in gender-segregated group lodging.
Meals: Volunteers will be served three healthy meals daily – breakfast, lunch and dinner.  Volunteers will enjoy delicious meals like rice and chicken, vegetable stew and yams and traditional Ghanaian cuisine such as fufu and soup, banku and okra stew. Vegetables and fruits will also be served. Our host family is willing to meet the needs of our volunteers and every dietary requirement.
Group Teen Experience
Volunteers for this program come from across the globe. We have fixed start dates for arrival in Kotoka International Airport in Accra and the same transportation to the site of the project. Depending on each project, the program duration is 2-4 weeks.
Volunteers who have joined the High School Special Program and built a stable service foundation can choose to extend this experience by working an extra week or more at one of our other project sites with longer-term volunteers. Volunteers that extend will be able to have more independence and freedom. Our staff is always available to assist.
Volunteers will enjoy the diversity and international experience of each group. In any one group of fifteen, there are teenagers from five to ten different nations. Team work and project building serves as a great bonding mechanism for volunteers to make life-long friends and experience cultures from countries and regions past the location of the project.
Volunteers will stay with a local family to be immersed in the Ghanaian culture and lifestyle. Make a difference as you learn Ghana and explore the area.
English is spoken in Ghana and it is a friendly country with lovely warm weather no matter the time of year. The urban areas are modern and larger with new amenities, but rural areas lack many amenities. Local cuisine features a lot of fresh fruit, beans, rice, fish, goat, and chicken.
At OGVO we take pride in our reputation for careful, meticulous planning and attention to detail. It is inevitable that some things described here will not happen exactly as presented. To get the most out of the OGVO experience, participants need to be flexible in responding to unforeseen situations, and creative in taking advantage of unexpected opportunities. We expect OGVO participants to share responsibility for the success of their experience. Rules that provide a safe and structured environment, set curfews, and prohibit the use of alcohol, drugs, and   tobaccos are in place and enforced. We expect you to behave in a mature and productive way at all times.
Highlights
High School Specials volunteer work and travel
Visit historic Cape Coast Castle, Kumasi – Ashanti Kingdom
Work with local institutions as well as the government and NGOs
Receive hands-on experience
Shop at an African Market
Make friends from diverse countries
Live with a Ghanaian Host Family
Experience a degree of freedom and independence as you broaden your horizons
Program Schedule
Duration: 2 – 4 weeks
Dates: 1st and 3rd Monday of every Month
Arrive at: Kotoka International Airport (ACC)
Program Location: Kumasi – Ashanti Region (the second largest city in Ghana), also available in other regions across Ghana
Working Days: Monday – Friday (5 days a week)
Working hours:  7 – 9 hours in a day (35 – 45 hours in a week)                                              
Program deposit: Deposit of US $200 required to secure placement                      
Accommodation Type: Host family, single or shared rooms
Travel and Tourism Tours: Travel/Sightseeing on weekends included in Cost
Program Fee: See the table below
Program Fee's & Duration – High School Volunteer Abroad Program
| | | | |
| --- | --- | --- | --- |
| 2 Week | 3 Weeks | 4 Weeks | Extra Week |
|          $ 1000 |          $ 1250 |        $ 1500 |       $ 250 |
What is included in program fee?
Airport pick-up service, accommodation (home-stay), three (3) freshly cooked meals daily, 24hr In-country support, in-country orientation, 24/7 emergency contact, introduction to host family and program, transportation to and from project site, placement and supervision in program, recommendation letter/certification of completion, cultural activities and weekend excursions, Airport drop-off after project completion.
What is NOT Included?
Visa costs, Airfare, Travel and Medical Insurance, Vaccinations, Entrance fees to any tourist place, Internet access, Buying gifts/souvenirs for friends and family members back home, Phone calls, Damage to or loss of properties, Water/Drinks and Personal spending money.