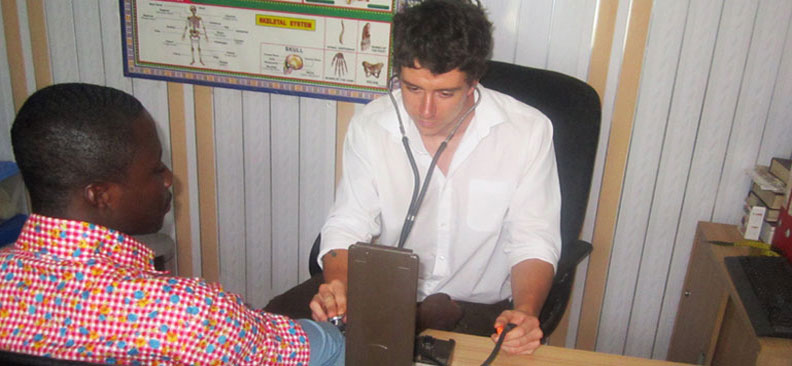 Mental Health & Psychology Experience in Ghana
If you are willing to gain an insight and awareness into mental health in a new environment and culture then this programs aims to provide you with such an opportunity to do so within a community setting. Please note this program has been specially designed to those already studying or looking to further study psychology / mental health and may not be appropriate or applicable to those outside this.
1904 adage the first purposeful psychiatric hospital built in Ghana accommodating about 200 patients to start with. Despite ongoing expansions being made to the hospital in the years onwards from this, frequent overcrowding remained a continuing issue.
Ghana's mental health sector is funded mainly by the government. Its psychiatric services stem back to the early 19th century where patients who suffered from mental health illnesses would be detained in prisons. This slowly developed into a 'lunatic asylum' created under legislation passed in 1888 that would see those suffering with psychiatric illnesses being placed here.
Extensive amendments were made to hospital buildings with rapid expansions in staff training and recruitment. Staffs were refrained from punishing patients as previously had been a norm as knowledge and understanding began to increase in and around mental health and the issues associated with it. For the fifty years from the late 1920s, key players in the Ghana mental healthcare system began to address key issues that were prevalent in the sector and address them accordingly. From the 1950s innovative treatments for psychiatric illnesses such as 'chlorpromazine' and 'electroconvulsive' therapy began to emerge more prevalently. Patients were removed from chains and isolation between patients became discouraged.
Notwithstanding such advances, many citizens in Ghana still believed and practiced in the traditional forms of psychiatric treatment. Even though psychiatric services have been rooted in Ghana for over a century, there remains a widely held belief that mental health illnesses remain caused by supernatural evil forces that are best exiled by traditional medicine methods. Many patients or their relatives would still opt for a traditional or herbal form of treatment such as visiting shrines, herbalist centers or prayer camps that would be relatively more accessible and economical.
Nonetheless government policy in the long term remains to establish and expand psychiatric facilities in all regional and district hospitals. Part of this saw training courses developed in the 1970s to create registered mental nurses (RMNs) and community psychiatric nurses (CPNs). Government and University collaboration with a Danish NGO in 1994 saw funding and expertise in the training program for CPNs and medical assistants in the Northern and Upper regions of Ghana expanded and accelerated. Two university psychiatric departments in Accra and Kumasi had been developed to offer out-patient clinical services, in addition to teaching and research work as government policy attempted to normalize, ingrain and mainstream up to date psychiatric services into the primary healthcare.
On the other hand the reality is a lot more needs to be done to achieve this even today. With a population of over 25 million, Ghana only has 13 practicing psychiatrists in the public service. Inadequate staffing in general remains a recurrent problem with occupational therapists, social workers and CPNs all hard to come by. Traditional healers who can bring with them inhumane treatment methods remain prevalent in Ghana today. It is estimated that around 2.5 million people in Ghana currently suffer from some form of mental health illness.
The mental health and psychology placement in Ghana is designed to give you an insight into how psychiatric services operate in Ghana today and gain a deeper understanding to the history and developments of Ghana mental healthcare. Public education plays a leading role today in helping to overcome widely held traditional myths about mental illnesses and encouraging patients and relatives to seek early professional and alternative treatment.
Such alternative treatments focus in areas such as occupational therapies and community outreach programs. Volunteers on our mental health program will spend time on their program involving themselves with such programs. This is directly in line with the new mental health act passed in 2012 that aims to combat the stigma and discrimination associated with mentally ill people in Ghana that remains widespread and doing so via a more community-based approach as oppose to a previous institutional model that existed.
On your first day at the project the community nurses will be on hand to give a talk with you around the psychiatric history and development that Ghana has experienced. You will go on to learn the processes involved that the doctors and nurses go through when undergoing consultations with psychiatric patients. This includes assessing patient records, evaluating any progresses, measuring any diagnoses and prescribing any relevant medicines. The doctor will talk through with you generally the different ways in which they take care of patients suffering from mental health issues. There will be ongoing opportunities for you to assist in such health education procedures throughout.
Please note we can never guarantee hands-on experience, as the decision ultimately lies with the medical staff. Your level of hands-on involvement is dependent on your experience, duration of program and willingness to get involved. The doctors will assess your capabilities and assign responsibilities accordingly. Those with little or no medical experience will assume a largely observational role. If you are studying medically related degree, then you should have more opportunity to undertake some more basic hands-on involvement.

Highlights
• Earn international volunteering experience by assisting doctors and nurses in treating patients in Ghana.
• Get the opportunity to explore different medical specializations, from mental health and surgery to pediatrics and maternity.
• Learn skills and techniques from seasoned doctors and nurses.
• Spend a few weeks in Ghana and immerse in its rich culture and history.
• Add to your CV or resume with this great experience

Qualifications
OGVO requires all volunteers/interns participating in the Mental Health Internship/Volunteer Program to provide proof of qualifications or relevant experience in the medical and healthcare industry. Current medical and nursing students must provide a letter from their school advisor confirming enrollment status.
Location of OGVO Volunteer/Intern Programs
We have volunteer and intern work placements in both urban and rural areas in Ghana including Accra, Koforidua, Kumasi, Cape Coast, Kwamoso, Salt Pond,Swedru,Tepa, Boaben-Fiema, Bibiani, Boako, Wassa Akropong, Wale Wale, Mampong, Asafo, Buduburam, and many more.
Start Dates and Durations
We pride ourselves for our flexibility. Volunteers or interns can arrive any day of the year with advanced notice. You can volunteer or intern for periods of 1 week to 6 months. Extension can be arranged with advanced notice as well.
OGVO Program Prices
Our fees are extremely affordable as compare to other organisations. Our program fee starts as small as US $250. Program fees mainly help us cover the variable costs, such as food, accommodation, airport pick-up, placement, program orientation, etc. Program fees vary according to the length of your program. To see program fees and what it covers, please click here
ACCOMMODATION & MEALS ARE INCLUDED
Volunteers on this program will be accommodated with a local host family, and will gain the opportunity to become immersed in the local culture and custom, improving their knowledge of the people, culture and language. Ghanaian families are renowned for their kindness and hospitality and they love to learn about different cultures. Living with a local family truly is the best way to throw oneself into the local culture and to meet people who will often become lifelong friends!
All families have been fully vetted by our team and have extensive experience hosting international volunteers. Bedrooms are private but generally shared with volunteers of the same gender. Volunteers will be provided access to a shared bathroom. Generally, your host brother, sister or mother assist you with your laundry but it is not an obligation, learn to wash your clothing's with your hands in several buckets, enjoy the sun drying your clothes and odor the African fragrance in your clothes.
Host families will provide volunteers with breakfast, lunch and dinner during the working week.
Breakfast is usually ready by around 7am; however you can eat later if you prefer to get up late. Lunch is usually packed by your host family in a lunch box so that you can eat at your project if you wish. Dinner is usually served around 6pm.
If you have special eating needs, you can indicate that while applying. Even though special eating needs are not something we can guarantee, we will do our best to meet your needs.
It is important to remember that the living conditions in Ghana are different from home. Most families have running water, but hot water is still uncommon in some areas. Although the accommodation is basic, this is part of the challenge and experience of volunteering in a developing country. With a little patience, and a flexible attitude, you will quickly get used to your new surroundings.
Working days and hours
You will work 5 days a week, leaving you two free days (Saturday & Sunday) to explore the area. You'll work around 4 – 9 hours per day.
FREE TIME
During weekends Volunteers/Interns have the opportunity to visit all that Ghana has to offer. Weekend trips available include visits to Mole National Park in the Northern Region of Ghana. This National Park offers a great Safari-like experience and is one of the biggest Elephant Sanctuaries in Africa with the chance to spot Lions, Leopards & Antelopes in their natural habitat.
Volunteers can also take a trip to Cape Coast in the Central Region of Ghana to relax in the beautiful beaches and see the famous Cape Coast castle, the Kakum Canopy walkway and Elmina castle, where slave trade begun.