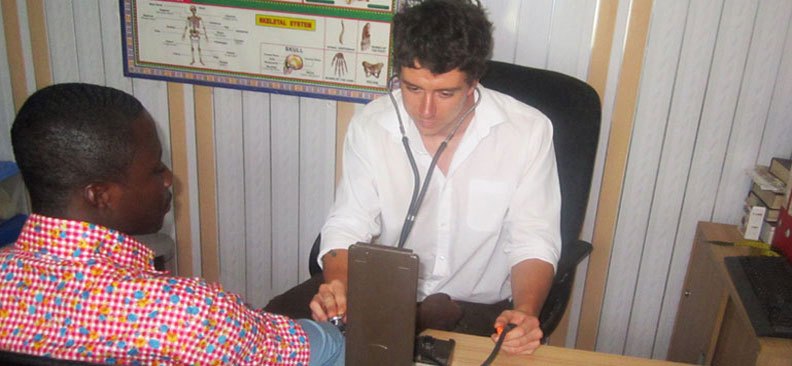 Volunteer Medical Internships in Ghana
Take part in this implausible opportunity to gain first-hand experience and insight into the Ghanaian health care system. Observe and gain knowledge of from local staff whilst getting involved in basic support work.
OGVO can organize placements from people of all backgrounds. So whether you're a qualified healthcare professional looking to give back on your next vacation, a nursing student organizing an overseas elective placement, or a school leaver looking for work experience to boost your university application – we have just the project for you!
The work of the healthcare system in Ghana is not only to treat immediate cases but also educate the local communities in preventative measures. Admittance to healthcare in Ghana has improved dramatically since the introduction of the National Health Insurance Act in 2003. Nevertheless, the healthcare system in Ghana still faces a number of challenges, particularly in rural areas. The large majority of patients arrive due to illnesses related to poor sanitation. Malaria is also a huge issue and remains the cause of many deaths and illnesses. Furthermore, HIV/AIDS continues to harm the lives of so many Ghanaians. Many of the major causes of death and serious illness are avoidable.
We can arrange placements in the following departments:
Adolescent Counseling, Community Health Education, Dentistry, General surgery, Laboratory, Nursing, Maternity & Midwifery, Obstetrics & Gynaecology, Ophthalmology, Paediatrics, Pharmacology, Physical Therapy, Physiotherapy, Prenatal, Psychology, Radiology, Ultrasound, Ear, Nose and Throat (ENT) etc.
Please note we can also potentially arrange placements in other departments on request.
Health Electives – We can tailor the placement around your needs and design your work schedule around the requirements for your elective. The specific program that we offer for healthcare electives includes: dentistry, medical, midwifery and nursing students looking to take part in an overseas elective. OGVO can also complete any paperwork required by your university, as we receive many healthcare students in Ghana for their elective placement.
Whilst the hospital adopts modern forms of treatment, you will experience how cases are treated within an under-resourced and poorly staffed healthcare system and the challenges the staff face. Many students also find fascinating to witness the dynamics of the doctor-patient relationship compared to that of the western world. Over the course of your placement you will witness a range of cases that you may never come across in your country, such as Typhoid, Polio and TB. There will also be the chance to learn about tropical diseases such as Malaria, Leishmaniasis and Dengue. Furthermore, cultural factors and a lack of education/health awareness will give you an insight into the alarmingly high number of preventable cases admitted each day. You will find the staff at the healthcare facilities appreciative of your support and positive towards information sharing.

Work Experience Internships – OGVO welcome school leavers and first (1st) year healthcare related undergraduate students, looking to gain invaluable experience. You will be placed in a number of different departments, so that you can receive a broad insight into the Ghanaian healthcare system. As a volunteer or intern, your role is largely observational. The hospitals are poorly resourced and under-staffed by Western standards, so you will have a very eye-opening experience.
You are able to combine your healthcare program with our other community based volunteering projects such as helping at an orphanage or teaching project, should you wish to get involved in multiple projects. The maximum recommended duration for the work experience internship is 8 weeks.
Medical Volunteering – The vast majority of medical facilities in Ghana are crying out for support from qualified international volunteers. OGVO welcome qualified healthcare professionals looking to make a difference with their time abroad.
As a volunteer, you will work alongside the local staffs that are ultimately responsible for you during your time on the placement. Please note that, as you are not registered to practice in Ghana, you will not be permitted to practice independently or undertake any complicated procedures. While previous OGVO volunteers have been given the chance to administer IV injections, dress wounds, taking blood pressure etc,
If you are studying medically related degree, then you should have more opportunity to undertake some more basic hands-on involvement. Though, please note we can never guarantee hands-on experience, as the decision ultimately lies with the medical staff. Your level of hands-on involvement is dependent on your experience, duration of program and willingness to get involved. Those with little or no medical experience will assume a largely observational role. The doctors will assess your capabilities and assign responsibilities accordingly.
Highlights
Earn international volunteering experience by assisting doctors and nurses in treating patients in Ghana.
Get the opportunity to explore different medical specializations, from pediatrics and maternity to mental health and surgery.
Learn skills and techniques from seasoned doctors and nurses.
Spend a few weeks in Ghana and immerse in its rich culture and history.
Add to your CV or resume with this great experience
Qualifications
OGVO requires all volunteers/interns participating in the Medical Internship Program to provide proof of qualifications or relevant experience in the medical and healthcare industry. Current medical and nursing students must provide a letter from their school advisor confirming enrollment status.
Location of OGVO Volunteer/Intern Programs
We have volunteer and intern work placements in both urban and rural areas in Ghana including Accra, Koforidua, Kumasi, Cape Coast, Kwamoso, Salt Pond,Swedru,Tepa, Boaben-Fiema, Bibiani, Boako, Wassa Akropong, Wale Wale, Mampong, Asafo, Buduburam, and many more.
Start Dates and Durations
We pride ourselves for our flexibility. Volunteers or interns can arrive any day of the year with advanced notice. You can volunteer or intern for periods of 1 week to 6 months. Extension can be arranged with advanced notice as well.
OGVO Program Prices
Our fees are extremely affordable as compare to other organisations. Our program fee starts as small as US $250. Program fees mainly help us cover the variable costs, such as food, accommodation, airport pick-up, placement, program orientation, etc. Program fees vary according to the length of your program. To see program fees and what it covers, please click here
ACCOMMODATION & MEALS ARE INCLUDED
Volunteers on this program will be accommodated with a local host family, and will gain the opportunity to become immersed in the local culture and custom, improving their knowledge of the people, culture and language. Ghanaian families are renowned for their kindness and hospitality and they love to learn about different cultures. Living with a local family truly is the best way to throw oneself into the local culture and to meet people who will often become lifelong friends!
All families have been fully vetted by our team and have extensive experience hosting international volunteers. Bedrooms are private but generally shared with volunteers of the same gender. Volunteers will be provided access to a shared bathroom. Generally, your host brother, sister or mother assist you with your laundry but it is not an obligation, learn to wash your clothing's with your hands in several buckets, enjoy the sun drying your clothes and odor the African fragrance in your clothes.
Host families will provide volunteers with breakfast, lunch and dinner during the working week.
Breakfast is usually ready by around 7am; however you can eat later if you prefer to get up late. Lunch is usually packed by your host family in a lunch box so that you can eat at your project if you wish. Dinner is usually served around 6pm.
If you have special eating needs, you can indicate that while applying. Even though special eating needs are not something we can guarantee, we will do our best to meet your needs.
It is important to remember that the living conditions in Ghana are different from home. Most families have running water, but hot water is still uncommon in some areas. Although the accommodation is basic, this is part of the challenge and experience of volunteering in a developing country. With a little patience, and a flexible attitude, you will quickly get used to your new surroundings.
Working days and hours
You will work 5 days a week, leaving you two free days (Saturday & Sunday) to explore the area. You'll work around 4 – 9 hours per day.
FREE TIME
During weekends Volunteers/Interns have the opportunity to visit all that Ghana has to offer. Weekend trips available include visits to Mole National Park in the Northern Region of Ghana. This National Park offers a great Safari-like experience and is one of the biggest Elephant Sanctuaries in Africa with the chance to spot Lions, Leopards & Antelopes in their natural habitat.
Volunteers can also take a trip to Cape Coast in the Central Region of Ghana to relax in the beautiful beaches and see the famous Cape Coast castle, the Kakum Canopy walkway and Elmina castle, where slave trade begun.