Ghana is a peaceful and welcoming country; Ghana satisfies one's appetite for both modern and traditional life. Its wide valleys, low-lying coastal plains, and thick rainforests resound with the beat of traditional rituals, while her cities glow and vibrate with all the bustle of the modern world. The Ghanaians are the friendliest people in West Africa: warm, proud yet humble with a contagious and calming sense of funniness.
Ghana is hot. It is always hot. What's more, it's always humid. Humidity usually lingers between 95 and 100 percent. The rainy season lasts from mid-June to mid-November – sometimes. The rain provides a little respite from the intense heat, but temperatures will still be in the mid-80s Fahrenheit. The south of the country experiences the heaviest rainfall during September.
Ghana at a glimpse
Government: Parliamentary democracy
President: Nana Akufo Addo
Capital city: Accra
Population: About 24,000,000
Ethnic Make-up: Akan 45.3%, Mole-Dagbon 15.2%, Ewe 11.7%, Ga-Dangme 7.3%, Guan 4%, Gurma 3.6%, Grusi 2.6%, Mande-Busanga 1%, other tribes 1.4%, other 7.8% (2000 census)
Language: English (official), Ewe, Ga, Twi (widely spoken), and many more.
Religions: Christian 68.8% (Pentecostal/Charismatic 24.1%, Protestant 18.6%, Catholic 15.1%, other 11%), Muslim 15.9%, traditional 8.5%, other 0.7%, none 6.1% (2000 census) Currency: Cedi (¢)
Places to visit
Accra , a savoury blending of big-city bustle and African ease: Makola & Kaneshie Market; James Town; Independence Square; Art Centre; Du Bois Centre; Kwame Nkrumah Mausoleum; National Museum. Also Aburi botanical garden with exotic plants from around the world; and the Academy of African Music and Arts.
Kumasi, the ancient capital of the Ashanti kingdom: National Cultural Centre; Asantehene's Palace; Adae Festival; Bonwire for Kente cloth; Ntonso for andinkra cloth; Pankrono for pottery; Ahwiaa for Woodcarving.
Coastal Forts and Villages : Fort Good Hope (1706) in Senya Beraku; Fort Patience (1697) in Apam; Cape Coast Castle (1652) in Cape Coast; Fort Nassau (1612) in Mori; Fort William (1730) and Asafo shrine in Anumabu; Fort St Jago (1652) and St George's Castle (1482) in Elmina.
Ghanaian Culture
Ghana is truly a multi-cultural country. As a volunteer you should strive to examine, listen and learn the culture of your host country. Thus, you should always linger vigilant and non-judgemental. ''Akwaaba obroni'' (welcome white person), you will often hear this word or other words of welcome when you are in Ghana. Ghanaians are welcoming in nature and among the world's friendliest people. Currently, urbanisation and westernization are breaking down many ancients' beliefs and practices; on the other hand, Ghanaians are still maintaining their traditional African culture with great pride from ancient times to the present.
Festivals
There are many traditional festivals in Ghana. Most festivals in Ghana are for purification, thanksgiving, dedication and reunion. They are also considered symbolically as maintaining the link between the living and the dead. It is dedicated to the honour of the spirits of the ancestors believed to be a guiding force in all human activities. Some of the important traditional festivals in Ghana are:
Odwira: A festival celebrated by the people of Akuapim
Kotoklo: A festival celebrated by the Krobo people
Akwasidae: Celebrated by the people of Ashanti and Kwawu,
Adae : Celebrated by the people of Akim and Ashanti Akwambo: Celebrated by the Fantes of Agona, Ajumako, Enyan, Ekumfi and Gomoa.
Bugum: Celebrated by the Dagombas of the Northern Region.
Kundum: Celebrated by the Nzema and Ahanta Homowo: Celebrated by the Ga people of Accra.
Aboakyer: Celebrated by the Efutu people of Winneba.
Nmayem: Celebrated by the Krobo people Hogbetsotso: Celebrated by the Ewe people of Anlo.
Ohum: Celebrated by Akim people Damba: Celebrated by the poeple of the Northern and Upper Regions of Ghana. Especially Dagomba and Wala. Kwafie: Celebrated by the Dormaa in the Brong Ahafo Region.
Kobena: Celebrated by Dagaare/Wale Oguaa Fetu Afahye: Celebrated by the people of Cape Coast.
Kadetefoo: Celedrated by the Gonja people
Ghana and Humanism
Ghana is one of the first African countries to have an incipient humanist movement. Like most African nations, Ghana was formerly under European colonial rule, but it was not widely settled by Europeans because of its
inhospitable climate. The northern part of the country has long been Muslim, but Christians, who arrived in the 18th century, now outnumber Muslims two to one. Fortunately, Ghana is free of the tribal conflicts which afflict many other African countries. It is one of the most economically progressive African countries and could be the starting point for the humanist movement in Africa.
Basic Cultural Principles You will be embarking on a typical cross-cultural experience in which you will be exposed to different ways of thinking, speaking, and interacting. There are certain principles that will help you to enjoy a positive experience and evade some of the possible misunderstandings that can occur in cross-cultural settings.
Cultural and Cultural Shock
It is apparent that you are entering a new environment where very little is familiar. You will most likely be bewildered at the start. Some people call this "culture shock", experts have suggested that there are four stages of culture shock:
• Initial euphoria
• Irritability and hostility
• Gradual adjustment
• Adaptation
Almost everyone experiences culture shock to some degree. It can be wearisome, and perplexing, but there are positive steps that can be taken to lessen the collision.
• Realise that this is normal and that you will live through it.
• Be open-minded and ready to learn. You will come to realise that there are different ways to do things and that's okay.
• Research your new culture. You can begin today, reading as much as you can about the Ghanaian culture that you will be experiencing.
• Look for rational reasons for behaviours in the new culture that you may find odd. With a little scrutiny, you may find that these diverse behaviours don't seem so odd at all. Primarily, flexibility, humility and open-mindedness will be your most valuable traits. These may have even been the key qualities that led you to volunteer in the first place, so it should not be complicated for you.
Conduct
Individual conduct is seen as having impact on an entire family, social group and community; therefore, everyone is expected to be respectful, dignified and observant in public settings and in most every aspect of life.
Language
In Ghana, there are about ninety [90] languages with about thirty-six [36] of them taught and learned in school. Each language is very intricate and adequate in its particular setting. Many Ghanaians speak several different languages, demonstrating a linguistic skill that is entirely nameless to most westerners. You will do well to attempt to learn as much of the local languages as you can. Ghanaians are very encouraging of this and feel privileged when you show this level of respect and concern. You will find that the English spoken in Ghana is quiet different in tenor, pronunciation and vocabulary from English in other countries such like England, America, etc.
The Family
Family is a very strong bond in Ghana and is the primary source of identity, loyalty and responsibility. Family obligations take precedence over pretty much everything else in life. Individuals achieve recognition and social standing through their extended family.
An interesting cultural variation among the Akan, to be precise Ashanti and Fanti people, is that affiliation within the clan is through women. Mothers have a higher status as in their point of view people get their blood from mothers.
It is important for Ghanaians to maintain dignity, honour, and a good reputation. The entire family shares any loss of honour, which makes the culture a collective one. In order to protect this sense of face there is a need to maintain a sense of harmony; people will act with good manners at all times to ensure they do not cause anyone embarrassment.

Pecking order
Ghanaian society is hierarchical. People are respected because of their age, experience, wealth and/or position. Older people are viewed as wise and are granted respect. In a group one can always see preferential treatment for the eldest member present. With respect comes responsibility and people expect the most senior person to make decisions that are in the best interest of the group.
Spiritual Values Religion is very basic in everyone's life in Ghana, and the spiritual side of life is regarded as the most significant. Everything is seen through a gridiron of spiritual values and actualities. This gives for a very receptive ambience and optimistic climate for spiritual work and interaction, yet, as in all cases, takes time to listen and learn.
Basic Rules of Etiquette in Ghana The subsequent are some of the basic rules of social conduct in Ghana. Ghanaians are very liberal and forbearing, especially with foreigners, and will frequently not point out mistakes. Yet, repeated mistakes and felonies will create an uncomfortable ambience with negative grades. Just memorize the old saying: when in Rome, do as the Romans do.
It is unacceptable for women, particularly young foreign women, to wear clothes of a revealing nature. Female clothing which would be acceptable in the West (shorts, low-cut strapped tops, etc.) are not socially acceptable in Ghanaian society. Similarly, it is unacceptable for foreign men to be shirtless in public and also unacceptable for Ghanaian men, to a lesser degree. Ghanaian social norms are sometimes difficult to establish, as younger adults are generally much less inhibited about wearing revealing clothing or being shirtless, while older Ghanaian citizens may find such apparel on Ghanaians and foreigners of any nationality or race to be insulting. A general rule is to dress conservatively unless in the company of people either of your own gender and/or your own age, or with whom you are well-acquainted.
Drinking alcohol and smoking in public are serious clanger among Ghanaians and should be avoided, both by Ghanaians and foreigners. Public intoxication to any degree is generally viewed with extreme disapproval. Such activities, though, are perfectly acceptable in a local bar ("spot"). When drinking alcohol, it is a common custom among Ghanaians to pour the last few drops on the ground as a libation for the gods. People who decline from drinking alcohol may accept an alcoholic drink with gratitude, raise it to their lips without drinking, and pour it upon the ground. Raising the glass to the lips signifies gratitude and thus pouring the drink away is a socially acceptable alternative for those who do not drink (this predominates in central and northern Ghana, where local populations often contain a higher number of Muslims than in the south, and this custom permits non-drinking Muslim Ghanaians to join social events without offending those present by refusing a drink or without breaking their religious laws).
Taking photographs of people unknown to the photographer must be conducted with the same level of consideration in one's own country. Most Ghanaians are happy to 'pose' for pictures as it is considered polite.
In public, it is not normal to find people of the opposite sex holding hands. If one should find the same sex holding hands, it is often a signifier of friendship. Social reaction to public display of affection differs: it depends on social class, education, exposure and other factors. Generally speaking, it is viewed upon as something private and should be kept that way. Homosexuality is a no-go topic simply because people just do not know how to react to such. Often some just resort to moral and biblical reasons for objection to homosexual relationships.
Homosexuality is neither condemned nor condoned by Ghanaians. Male hand-holding is sometimes less prevalent in large cities.
Communication Style
Ghanaians are more indirect communicators. This means they take care not to relay information in any way that could cause issues, whether that be giving someone bad news, turning down an invitation, refusing a request or any other such matter. Ghanaians always want to protect their own and others' face as well as maintain harmonious relationships.
As a result they tend to use proverbs, wise sayings, analogies readily. This allows ideas or messages to be convened in a manner that does not seem so blatant. In fact people who are viewed as wise frequently speak in proverbs.
Silence is a common means of communication. If someone is uncomfortable with a question or do not think the askers will appreciate response, they will say nothing rather than make the other person uncomfortable.
Things to Consider
Lodging and food are supplied with the placement. Weekend travelling and sight-seeing tours, however, are on your own, and expenses are not covered under the programme fee. Please bring with you any special food that you need. It may not be possible to find them when you are in Ghana, away from city centres. If you are on a special diet, have allergies or take special medications, please make sure this is known to both the OGVO staffs and the host family; be prepared to find that your preferences or needs may not be accessible. Bring your medications with you!!! Inquire about matters such as allergies and special diets, before coming, and bring any special foods you will need.
Greetings
When greeting people in a home, it is considered improper if the guest ignores any person present. Guests are expected to acknowledge and greet every person at a social occasion, including children and babies, by shaking hands (with the right hand only).
When shaking hands, it is appropriate for the guest to first greet the person on his/her right-hand side and work their way left. This ensures that the guest's palm makes contact with the palm of the person receiving the handshake – touching the back of the hand instead of the palm is considered insulting or unlucky. Guests are expected to begin by greeting the most elderly person present.
The same ritual is expected to be observed upon leaving as well as arriving, and should be carried out until sufficient familiarity has been established, at which point the ritual becomes redundant.
When greeting dignitaries, such as village or tribal elders, this ritual is expected to be carried out by all persons present regardless of age or status.
Expectations
At OGVO, we want you to feel completely comfortable with your journey before you ever step on an aircraft to travel to Ghana – West Africa. It is important to know just what to expect before coming. Like any experience (and this is vital), you will get out of your volunteer experience what you put into it. The more open you are to new ideas, and the more willing you are to talk to locals and make new friends, the more you will get out of your time in Ghana.
Weather
The first thing you should know is this: Ghana is hot. It is always hot. What's more, it's always humid. Humidity usually lingers between 95 and 100 percent. The rainy season lasts from mid-June to mid-November – sometimes. The rain provides a little respite from the intense heat, but temperatures will still be in the mid-80s Fahrenheit. What to Wear There are only a few guide books on Ghana and West Africa, and we found that information on clothing they seem to offer is, well, a little misinformed. If you are male, shorts and t-shirts are fine.
You may want to bring along one nice shirt and pair of pants, and maybe a tie, for formal occasions like church and/or funerals. The most comfortable attire for women really is knee-length skirts or light dresses. Shorts are actually hotter than skirts, and skirts are more appropriate for teaching, working in a clinic, or just about any other volunteer duty you may be doing. They don't have to be formal …there are lots of light-weight, comfortable and cute dresses and skirts out there that would do just fine. Of course, you're welcome to wear shorts, and many volunteers also opt for hospital scrub-type pants and t-shirts, as well. Women, please do not bring tops that are revealing in the bust area, short skirts or short shorts (just above the knee is appropriate) because they may attract unwanted and/or potentially dangerous attention.
If you are coming during the rainy season, you may occasionally run into cooler temperatures. You may want to bring one or two warmer items of clothing to be prepared. Jeans are often fine during this time of year. Shoes should be lightweight and comfortable, as you will most likely be doing considerable walking. Flip flops are generally fine, but if you plan to visit Kakum's rainforest, or if your assignment is one located in a rural area, you'll want to bring along tennis shoes or even hiking boots. They offer good support and protection in the bush.
Electronic Luxuries
There will, most likely, be no television or radios available. Internet access is available at one of several internet cafes within walking, or taxi, distance – when electricity is available. Electricity About electricity…. We tend to take electricity for granted in Western countries. In Ghana, however, things are different. Many places have electricity, but blackouts, or "lights out," occur frequently. There will be days when electricity is not available at all. You will be surprised to learn how well you can function without it! You should bring plug-in adaptors for any necessary plug-in items, but also be sure to bring a surge protector. Electricity often comes in spurts, and it can ruin chargers, phones and other electronics. It is best to find solar chargers for phones, iPods, etc. They are available in many stores and online. Transportation If you have never taken a taxi or public transportation, you may be intimidated when you first arrive in Ghana.
Tro-tros and taxis are the most common forms of transportation. A tro-tro is a passenger van converted to a bus. As many people as possible pack into each tro-tro, and the driver will stop anywhere along any main route. Tro-tros are the most affordable form of transportation in Ghana. You can travel just about anywhere for very little money, but be prepared to cozy up to strangers, and don't carry too much with you. Taxis are also very common. In Accra especially, fares can be very expensive by Ghana standards, although relatively affordable when compared to US rates. Always negotiate rates before you get in the taxi. You can choose a shared taxi, which is the most affordable way to take a taxi, or a "drop." To drop means that you are the only passenger and the taxi takes you right to the door of your destination. If you drop, be prepared to pay more. Buses are also available. Consult our ground coordinator or someone local to find stops in Accra, Kumasi and Cape Coast. If you are lucky enough to find a bus, take it! Sometimes they even have air conditioning and movies!
Safety measures
Ghana is one of the safest countries in Africa. However, that doesn't mean that you shouldn't take safety measures to be safe. Do not undermine the threat of serious illness in Africa. Yellow fever immunizations are required for entry into Ghana, but it is not the only threat. Malaria is widespread, and you should bring mosquito repellent containing DEET to minimize threat.
Many other immunizations are also recommended by physicians. Visit a physician who specializes in international travel at least a month, if not longer, prior to your trip. Don't travel alone, don't travel at night, and don't keep money and other valuables where they can be seen. Women should avoid carrying purses; instead, carry a travel wallet hidden around your waist, or around your neck, so that it can't be easily stolen. Accra and Kumasi is the most likely place for pickpockets and thefts, but you should always play it safe — just in case. People are very poor in Ghana, and valuables and money can be very tempting.
Water Most places in Ghana does not have running water. However, clean, safe drinking water is readily available. Small polyethylene bags (much like baggies) of clean, potable water are available for sale at nearly every corner for five pesewa (about four US cents) each. You can purchase them in quantity, called a satchel, for 80 pesewa, so you can stock up for less than a dollar.
There is no need to purchase water filtration containers to bring; they will only take up room in your luggage! Bathing, laundry and the bathroom may take a little more accommodation, however. Bathing is done from buckets, and you'll have a private area for this purpose. This may sound a little intimidating, but many volunteers comment on how refreshing a bucket bath feels after a long, hot day. We can help you figure out how to do this, since it will, most likely, be a new experience! Laundry is done by hand in wash buckets. Detergent capsules are available through many nearby traders, so there is no need to purchase these beforehand. We can show you how to do this, as well. If you would rather have assistance with this, you can pay a small fee (the equivalent of $3-$4) for a local person to do your laundry.
There is a toilet in the volunteer room (which is quite a luxury). It is connected to a latrine. You will need to provide your own toilet paper, which can be purchased at very affordable prices nearby.
Sewers are open in most of urban Ghana, although they rarely smell bad. Also, there are no trash disposal facilities, so there is a very unsightly litter problem throughout all villages and cities. Particularly, water bags litter both sides of most streets and roads. In our rural projects, you will find that the streets and villages tend to be much cleaner. The tribal system tends to hold people more accountable for their own personal areas, more so than in the city, so things are much different.
Invitations
Asking a person to a social event (e.g. a bar or restaurant) implies that the person offering the invite will be paying for everything. Inviting a person out and then expecting them to pay for their own drinks, etc. is considered extremely rude. When an outsider is invited to visit the elders and/or Chief of the community, the foreign guest(s) are expected to take a gift which usually a bottle of Schnapps or Kasapreko gin, easily available in all shops. It is very unusual for a woman to be seen in the public with unusual dress on.
Ghana Entry Requirement (Visa Information)
A valid passport with entry visa is required by all visitors, except for citizens of ECOWAS state. These can be obtained from the nearest Ghanaian diplomatic mission and consulates. A basic tourism visa for Ghana is valid for 3 months from the date of issue. The visa can be extended at the Department of Immigration in Accra, Sunyani, Koforidua, Kumasi, Tamale and Cape Coast. Citizens of certain nationalities can also get a visa upon arrival in Ghana, but it will cost more than getting it at their homeland.
Special Occasions
Naming ceremonies, puberty initiations, marriage and death are all marked by family ceremonies. Seasonal festivals serve to bring a whole tribe or clan together in spectacular fashion.
If attending a funeral, women (including foreigners) must cover their heads with a hat or simple black cloth wound round the head. A man must not have his head covered. The same applies to church-going, weddings, and naming ceremonies.
Safety is Our Priority
In order to help our volunteers in the field or to find out their situations OGVO has developed a "habitual field visit programme". Under this plan our staff visits or call volunteer every day. In case of sickness or emergency, OGVO is ready to help volunteers 24 hours a day and 7 days a week. Please call us on our telephone number, and we will be with you as soon as possible.
Health
Ghana has a reasonably good health service. All regional capitals and most districts have clinics and hospitals, and two teaching hospitals in Accra and Kumasi have facilities for treating special cases. Additionally, a number of religious organizations and private medical practitioners operate hospitals and clinics all over the country. Herbal medicine and psychic healing are also generally practiced, and there is a special government Herbal Medicine Hospital and Research Centre at Akuapim-Mampong.
Medical Information
The weather is hot and moist and slows everything down. It does rain often in Ghana during the period between June and September. Don't expect to achieve as much in a day, as even small efforts tire you out and over-exertion can make you ill. Be careful of suntan. Tropical sun in enormously strong and can burn you very quickly. Always remember to wear sunglasses, sunscreen and a hat. Watch out for traffic; Ghanaian road manners leave to be desired. Don't swim in freshwater lakes and estuaries. You can catch Schistomiasis (also known as Bilharzias). It is a parasite that bores into your foot and lives in your intestines. Also on the coast, watch out for dangerous rip-tides and strong currents. There can be sharks sometimes as well.
If in doubt ask the locals if it is safe to swim. We recommend you ask your medical doctor for advice about vaccinations. If you have any sort of allergic reactions please let us know in the beginning of the programme so that we can control the proper setting according to your health condition.

Travel Guides for Ghana
The Lonely Planet Guide and Bradt Travel Guide offer cautiously researched and detailed advice on both Ghana and other destinations in West Africa. They are ideal for any traveller going to Ghana and include detailed descriptions and illustrations of the region's wildlife, detailed maps and town plans, and boxes on cultural subjects ranging from mosque architecture to traditional festivals. You can also visit Ghana today/Ghana web for more information on Ghana.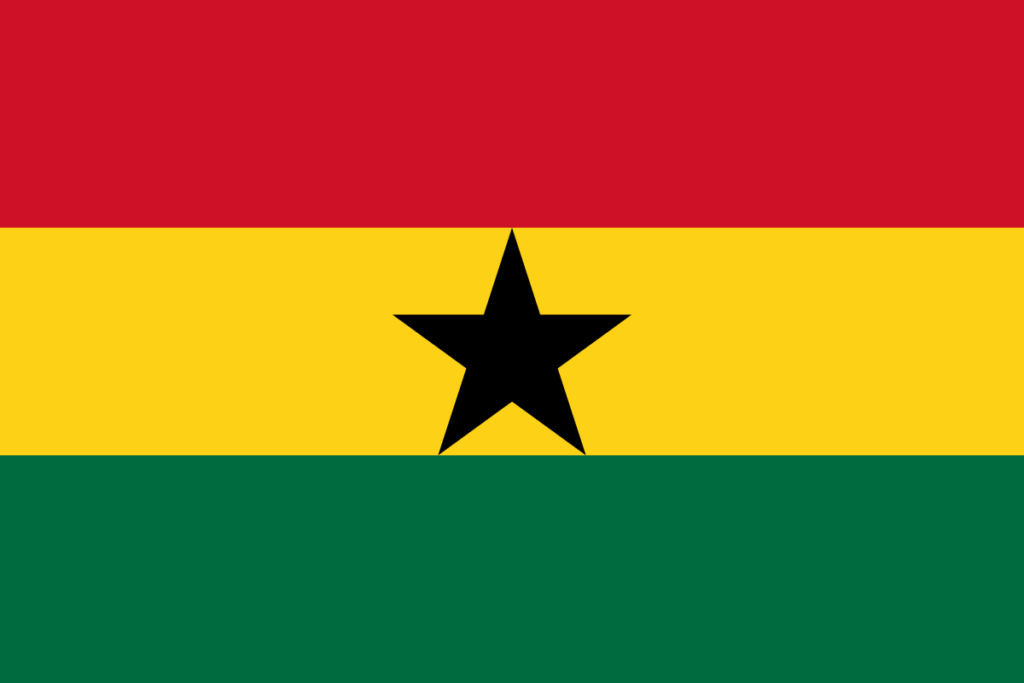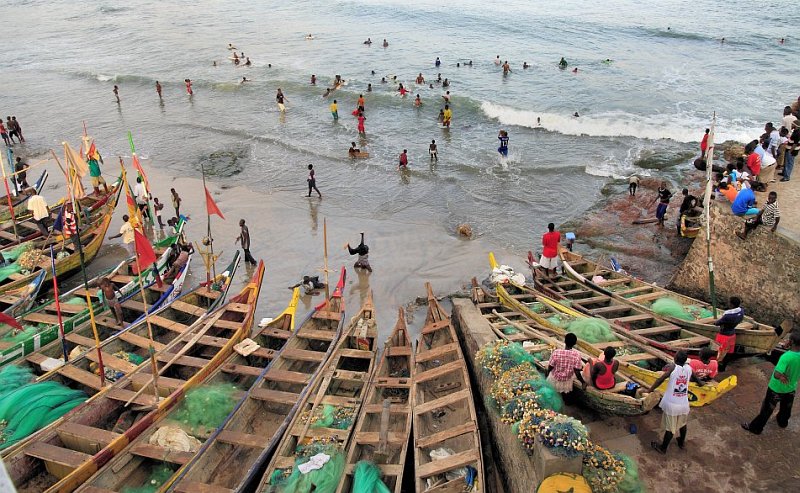 Quick facts about Ghana
Arrival airport …………Accra (ACC)
Capital City …………… Accra
Religion ……………………Christian
Currency …………………Cedi (GHC)
Population ……………… 24 Million
Language …………………English (official)
Time Zone ……………… UTC + 00:00