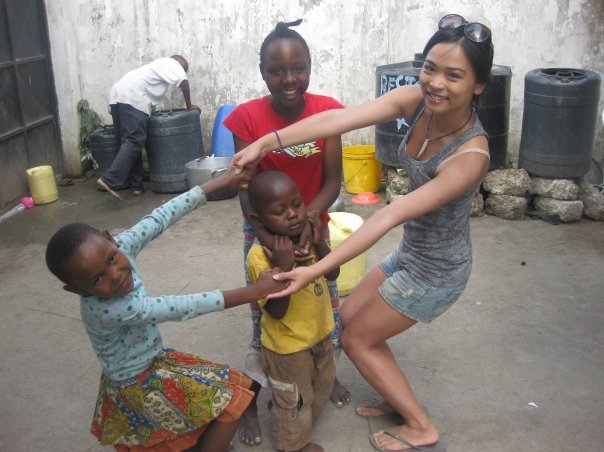 Volunteer Disabled Children in Ghana
Please note that the special needs school is closed during the following dates:
– 13th December to 6th January
– 18th April to 12th May
– 25th July to 8th September
Volunteer in Ghana with OGVO and carry out volunteering tasks at a school that caters to children with mild to severe disabilities. The school provides a variety of support services to the students, which mainly focus on basic education and life skills classes, vocational training, speech and physical therapy, and physical exercise. We place volunteers at a government school for children who are intellectually challenged. The children have different conditions and needs. The students range from 6 to 25 years of age.
Whilst the government is making steps to support people with special needs, the facilities that support them are understaffed and families often do not have the means to give their child the support they need. Approximately five million people in Ghana live with disability, which is approximately a fifth of the population.
If you do not have specific qualifications or experience, then you will be placed within the classrooms to assist the local teachers with their classes since volunteers assist in a number of capacities. Those with experience or a specific area of interest can get involved in the physical and speech therapy sessions. This involves giving additional support for the students with more stern needs and supervising the students with their activities. It is also appreciated if volunteers can assist in the feeding of children during meal times.
Volunteers are needed to help feed the children and look after them. A lack of staff, particularly specialized staff, results in the children receiving very little attention and support. The local staff will do their best to support you but there maybe times where you have to work with the children independently, so you should prepare basic activities in advance. By spending time interacting with the children whether you're playing games or teaching them basic life skills, you will be making a real impact in improving their quality of life. The children suffer from a range of intellectual and physical disabilities.
You will need to be enthusiastic and patient in order to succeed in this role since working with disabled children is hard work.
Highlights
• Help educate disabled children in Ghana and gain international volunteering experience.
• Choose a volunteering area to explore, from education and life skills training to physical and speech therapy.
• Work with children and young adults aged 6-25 with mild to severe disability.
• Live with a local family and explore the culture of Ghana through them.
Qualifications
No previous experience is required for this program BUT you will need to be enthusiastic and patient in order to succeed in this role. It would be helpful if you are fluent or nearly fluent in English.
Location of OGVO Volunteer/Intern Programs
We have volunteer and intern work placements in both urban and rural areas in Ghana including Accra, Koforidua, Kumasi, Cape Coast, Kwamoso, Salt Pond,Swedru,Tepa, Boaben-Fiema, Bibiani, Boako, Wassa Akropong, Wale Wale, Mampong, Asafo, Buduburam, and many more.
Start Dates and Durations
We pride ourselves for our flexibility. Volunteers or interns can arrive any day of the year with advanced notice. You can volunteer or intern for periods of 1 week to 6 months. Extension can be arranged with advanced notice as well.
OGVO Program Prices
Our fees are extremely affordable as compare to other organisations. Our program fee starts as small as US $250. Program fees mainly help us cover the variable costs, such as food, accommodation, airport pick-up, placement, program orientation, etc. Program fees vary according to the length of your program. To see program fees and what it covers, please click here
ACCOMMODATION & MEALS ARE INCLUDED
Volunteers on this program will be accommodated with a local host family, and will gain the opportunity to become immersed in the local culture and custom, improving their knowledge of the people, culture and language. Ghanaian families are renowned for their kindness and hospitality and they love to learn about different cultures. Living with a local family truly is the best way to throw oneself into the local culture and to meet people who will often become lifelong friends!
All families have been fully vetted by our team and have extensive experience hosting international volunteers. Bedrooms are private but generally shared with volunteers of the same gender. Volunteers will be provided access to a shared bathroom. Generally, your host brother, sister or mother assist you with your laundry but it is not an obligation, learn to wash your clothing's with your hands in several buckets, enjoy the sun drying your clothes and odor the African fragrance in your clothes.
Host families will provide volunteers with breakfast, lunch and dinner during the working week.
Breakfast is usually ready by around 7am; however you can eat later if you prefer to get up late. Lunch is usually packed by your host family in a lunch box so that you can eat at your project if you wish. Dinner is usually served around 6pm.
If you have special eating needs, you can indicate that while applying. Even though special eating needs are not something we can guarantee, we will do our best to meet your needs.
It is important to remember that the living conditions in Ghana are different from home. Most families have running water, but hot water is still uncommon in some areas. Although the accommodation is basic, this is part of the challenge and experience of volunteering in a developing country. With a little patience, and a flexible attitude, you will quickly get used to your new surroundings.
Working days and hours
You will work 5 days a week, leaving you two free days (Saturday & Sunday) to explore the area. You'll work around 4 – 9 hours per day.
FREE TIME
During weekends Volunteers/Interns have the opportunity to visit all that Ghana has to offer. Weekend trips available include visits to Mole National Park in the Northern Region of Ghana. This National Park offers a great Safari-like experience and is one of the biggest Elephant Sanctuaries in Africa with the chance to spot Lions, Leopards & Antelopes in their natural habitat.
Volunteers can also take a trip to Cape Coast in the Central Region of Ghana to relax in the beautiful beaches and see the famous Cape Coast castle, the Kakum Canopy walkway and Elmina castle, where slave trade begun.