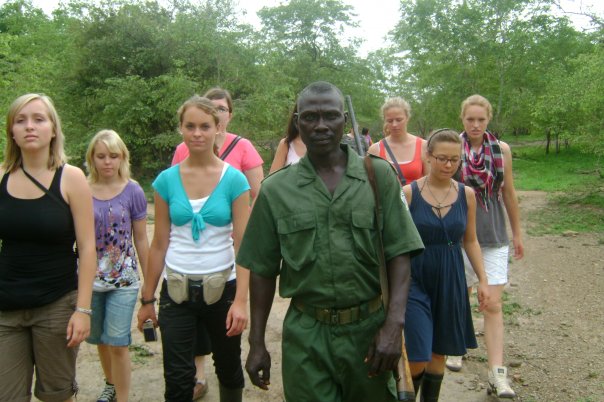 Custom Group Trips
Volunteer As A Group in Ghana – Meaningful Customised Group Holidays
Become a volunteer with OGVO Volunteer and Tours based in Ghana. You will be able to plan volunteer opportunities around your school breaks or even with your home institution. We create customized programs for High School Groups, University Groups, Sports Teams, Medical & Healthcare Groups and Club Groups. We want you to have a positive learning experience out in the world while you help to improve communities in Ghana. We can tailor programs to specific interests and backgrounds while also working to broaden your world view. This is a comprehensive program that will allow students to volunteer and make a difference in the world while gaining field experience.
We are excited to work with you or your teacher, professor, or group leader in order to create an individualized itinerary to help accomplish your goals. There are a wide range of projects open to volunteers in Ghana. Here are a few options:
– Schools and groups can participate in physical projects that include renovation and development. Build class rooms, orphanages, health centers, and other important infrastructure buildings. See your skills improve and the tangible results of your efforts as you create a safe space for underprivileged children to learn and explore.
– Students with academic backgrounds including psychology, therapy, teaching, nursing, midwives, healthcare, social work, medicine, dentists, human rights law, business and others can individualize projects with OGVO Volunteer and Tour. Groups of pre-meds, nursing students, dental students and other pre-health students are all welcome as well. Potential projects include volunteering in schools, working with disabled people, helping in an orphanage, working in hospitals/clinics, constructing community projects, working with law firms, and other ways to help volunteers accomplish their future career goals by adding to their resume.
– Students with a science background can volunteer with conservation organizations that focus on environmental projects. This is a great choice for students interested in biology, chemistry, veterinary studies, conservation and ecosystems. Volunteers will work with local organizations to launch cleanup campaigns, plant trees, and engage in the agro-forestry project. Volunteers will work with environmental education initiatives and agricultural projects such as working with cocoa and coffee plantations, oil palm plantation, clearing farmland, transplanting seedlings and harvesting crops.
– Journalism students can volunteers with global writing and photography programs with OGVO Volunteer and Tour. Students can improve on their technique as they capture daily life, flora and fauna, history, culture and local traditions.
– Specific groups and sports teams volunteer with local communities to share their interests and talents. Sports clubs can bond with local communities by teaching their sport and bringing equipment for the children and community members to play with. Musical clubs/choirs/bands can bring instruments and show local children how to play music. They can also plan and execute community events such as talent shows.
– Language instructors or interested groups can go to Ghana in order to hone their language skills while giving back to the local community. Volunteering with children is a great, informal and straightforward way to practice a new language. Volunteers will be placed in an environment where language learning is unavoidable and there are endless opportunities for practice
– World studies, anthropology, sociology, psychology, cultural classes, and other similar majors can travel together to learn about foreign cultures. There are many nearby excursions including exploring ancient African culture in Ghana.
WHY GROUPS VOLUNTEER WITH  OGVO?
TEACHERS TRAVEL FREE!
For every 10 paying participants, 1 participant (a chaperone, organizer, or student leader) goes free. All your accommodation, transfers, meals and in-country support will be included!
GROUPS OF ANY SIZE
With our exclusive Host Family/Home-Base structure, we can accept groups of any size with flexible dates and customized activities.
CUSTOMISED PROGRAMS
We connect with you to create a unique experience that is customized around your group, your people, and your goals.
24/7 EMERGENCY SUPPORT
Dedicated 24/7 support from our staff / in-country teams.
ALL INCLUSIVE TAILORED TRIPS
Customized to suit your every need with all accommodation & meals included.
Highlights
– Volunteer with local communities in a wide variety of projects
– Be immersed in a fascinating culture
– Have the opportunity to travel after your volunteering experience
Contact Us now for more information so we can work with you to organize a memorable, educational and cultural experience.
Duration & Fees
| | | | | | | | | | | | |
| --- | --- | --- | --- | --- | --- | --- | --- | --- | --- | --- | --- |
| 1wk | 2wks | 3wks | 4wks | 5wks | 6wks | 7wks | 8wks | 9wks | 10wks | 11wks | 12wks |
| 1100 | 1600 | 2100 | 2600 | 3100 | 3600 | 4100 | 4600 | 5100 | 5600 | 6100 | 6600 |
DISCOUNTS
Groups of 4 or more: USD $900 per person, per week, plus $500 for each additional week
Groups of 8 or more: USD $750 per person, per week, plus $500 for each additional week
What is included in program fee?
Airport pick-up service, accommodation (home-stay and/ hotel during tour), three (3) freshly cooked meals daily, 24hr in-country support, in-country orientation, 24/7 emergency contact, introduction to host family and program, transportation to and from project site, placement and supervision in program, cultural activities and sightseeing tours, airport drop-off after project completion.
What is NOT Included?
Visa costs, Airfare, Travel and Medical Insurance, Vaccinations, Entrance fees to any tourist place, Internet access, Buying gifts/souvenirs for friends and family members back home, Phone calls, Damage to or loss of properties, Water/Drinks and Personal spending money.